Industrial ultrasonic cleaning machine is suitable for car auto parts ultrasonic cleaning. The tank size of the machine can be customized according to customer's requirements. You can directly put the parts into the tank, and there is SUS basket for small parts cleaning.
Sinle tank series with separate generator
Model

JP-360ST

JP-480ST

JP-600ST

JP-720ST

JP-1108ST

JP-1144ST

Tank size(MM)

600*500*450

700*500*500

800*600*550

1000*600*600

1000*900*600

1200*1000*800

Tank capacity

135L

175L

264L

360L

540L

960L

Transducers

36

48

60

72

108

114

Ultrasonic power

1800W

2400W

3000W

3600W

5400W

7200W

Heating power

4500W

6000W

6000W

9000W

18000W

24000W

frequency

40KHZ/28KHZ

Tank material

304/316SUS

Tank thickness

2MM

Timer

1S-99hours adjustable/Normally open

Heater

Normal-95ºC adjustable

Drain valve

Ball valve

Basket & Lid

standard equipped

Machine Voltage

AC 220V/380V, 3phases

Generator Voltage

AC 110V/220V, 1phase

Features

With casters with brake

Packing

wooden case

Warranty

1 year
Ideal to clean rust, carbon, pait, heavy oil, fruit agricultural chemicals and other things hard to clean, without damage to parts inside tank.
Features:
Adjustable ultrasonic power
Original BLT type transducer
SUS 316L stainless steel tank
Adaptable for continuous operation
Adjustable thermo controller
Adjustable ultrasonic power
With separate control ultrasonic electronic generator
Sweep mode control available
Digital timer & heating control
Boost mode& oil skimmer upon clients requirement
Pressure pump and filter system are available
Functions:
JTS series single tank ultrasonic cleaner equipment system includes replaceable transducer box and generator. The transducer box and generator can be both build-in or separate but work together to operate ultrasonic cleaning process with transducer box immersible mounted in fluid tank, one side or both side or bottom mounted inside the tank. The number and placement of transducers is selected to give maximum results in any parts cleaning tank with any cleaning load. Specification of tank dimension and transducer boxes are custom made available. Either for mould of parts cleaning can receive perfect cleaning efficiency. Stainless steel basket is optional.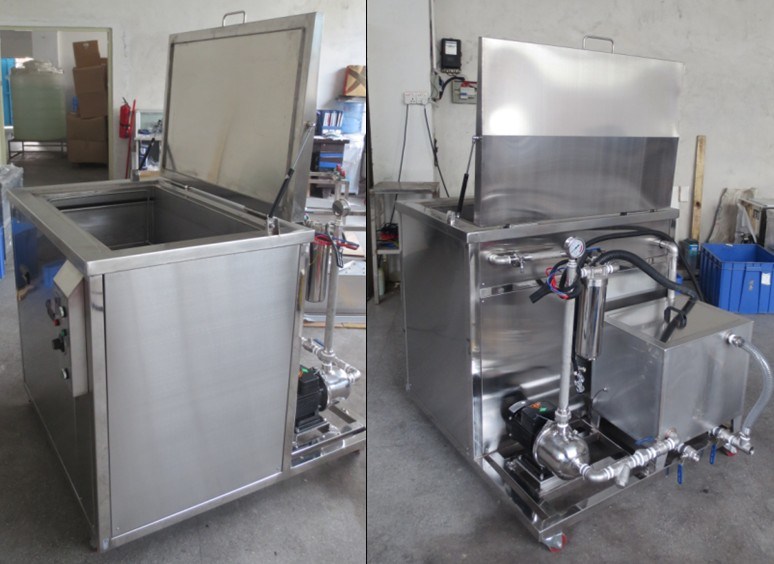 | | | | | | |
| --- | --- | --- | --- | --- | --- |
| Model | Tank size (mm) | Transducers | Ultrasonic | Heating | Oil skimmer |
| JP-120G | 500*300*250 | 12 | 600W | 1.5KW | With |
| JP-180G | 500*350*300 | 18 | 900W | 1.5KW | With |
| JP-240G | 550*400*350 | 24 | 1200W | 3KW | With |
| JP-300G | 550*450*400 | 30 | 1500W | 4.5KW | With |
| JP-301G | 800*300*400 | 30 | 1500W | 4.5kw | With |
| JP-360G | 600*500*450 | 36 | 1800W | 4.5KW | With |
| JP-480G | 700*500*500 | 48 | 2400W | 6KW | With |
| JP-600G | 800*600*500 | 60 | 3000W | 6KW | With |
| JP-720G | 1000*600*600 | 72 | 3600W | 9KW | With |
| JP-1108G | 1000*900*600 | 108 | 5400W | 18KW | With |
| JP-1144G | 1200*1000*800 | 144 | 7200W | 27KW | With |
| JP-1216G | 1500*1000*1000 | 216 | 10.8KW | 27KW | With |