HVAC Square Supply Air Diffuser
* Square ceiling diffuser is an integrated design ,where the diffuser frame is punched and stamped in one piece with the diffuser core. The diffuser is designed to deliver air equally in all 4 directions .
* 4 way diffuser is usually with damper for supply air .Damper is optional ,it fixed rigidly to the frame by aluminium rivets. Fixing by spring clips as option.

* SCD-VA,SCD-VB SCD-VC are the three kinds of square air diffusers which the airflow flatly, they are straight-edge diffuser, chamfer-frame diffuser, and new type of emovable diffuser.

* They are mainly used for studios, hospitals, theaters, classrooms, concert halls, libraries, recreation hall, theater lounge, general offices, shops, hotels, restaurants and gymnasium, and so on.
* In order to avoid the noise interference in a variety of environment, except determine the wind speed by the neck according to performance table, it should consider the installing height and surroundings.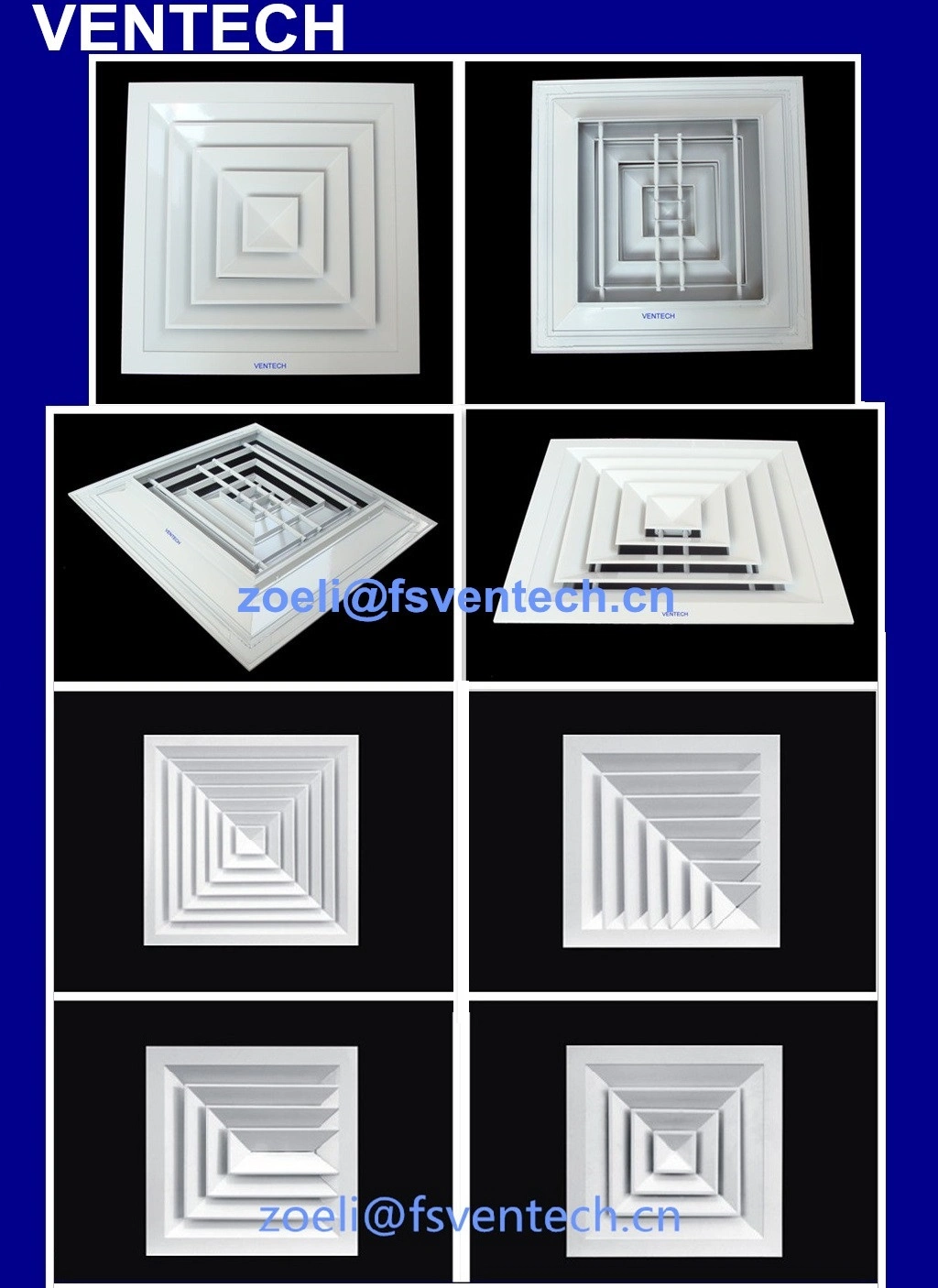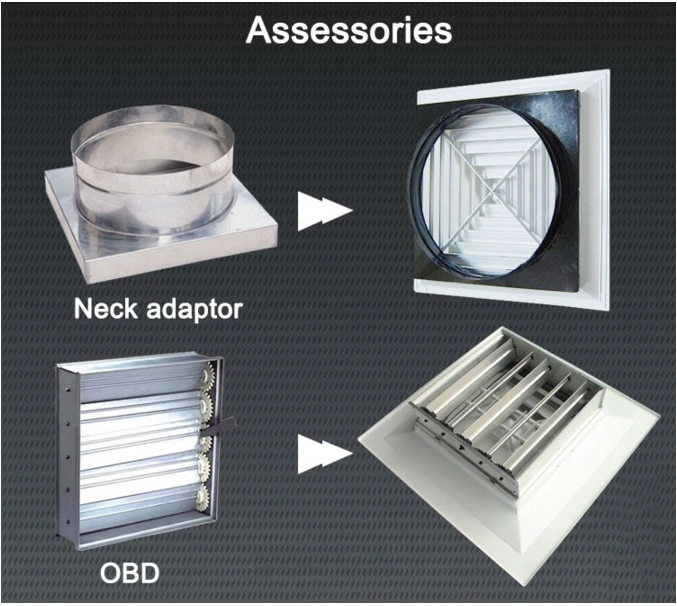 Features:
* Square diffuser by welding, frames are make of high quality profile, 1.0mm thickness.
* Blades are make of aluminium sheet by one piece stamping or by welding
* Core is removable to allow for better installation and maintenance
* Opppsed Blade damper optional
* Standards sizes: 150x150, 225x225,300x300,375x375, 450x450, 525x525. Other sizes available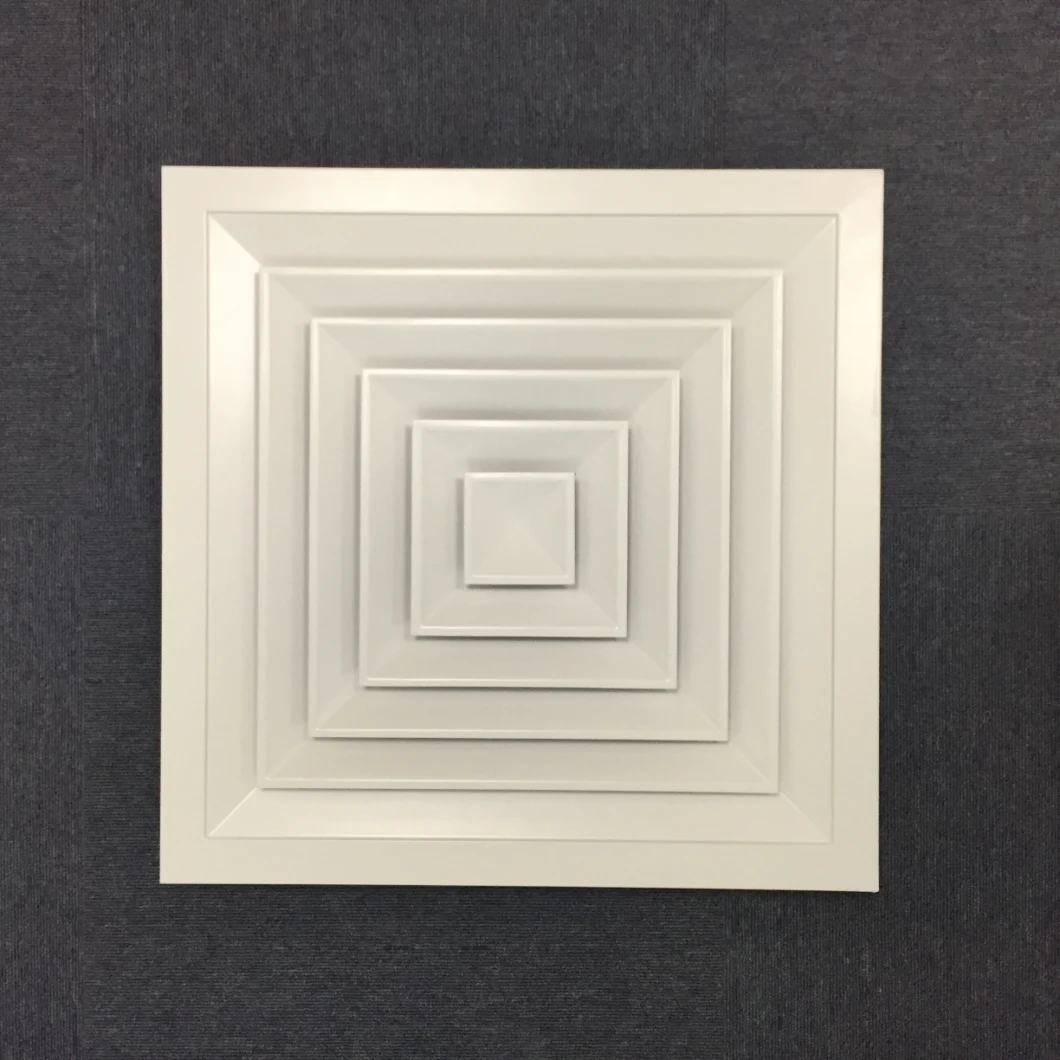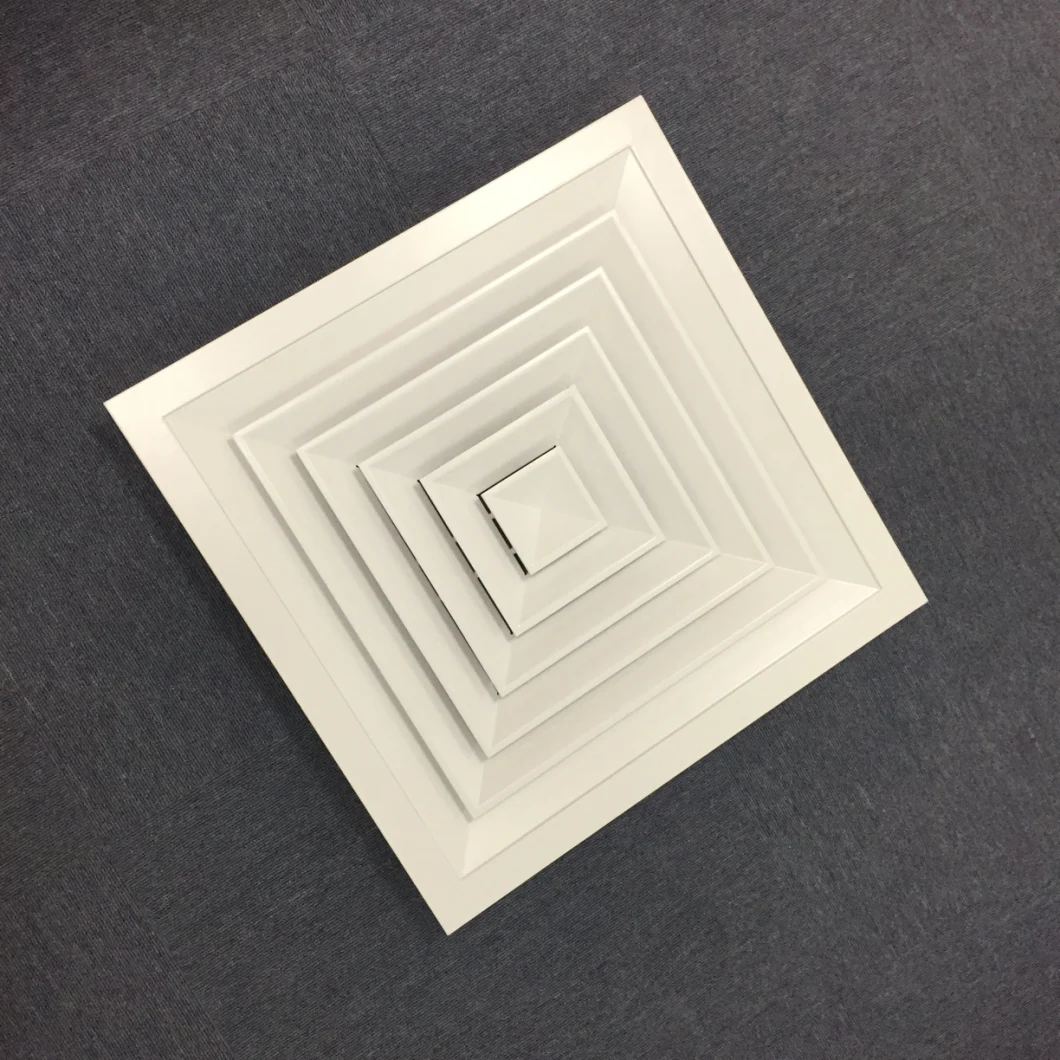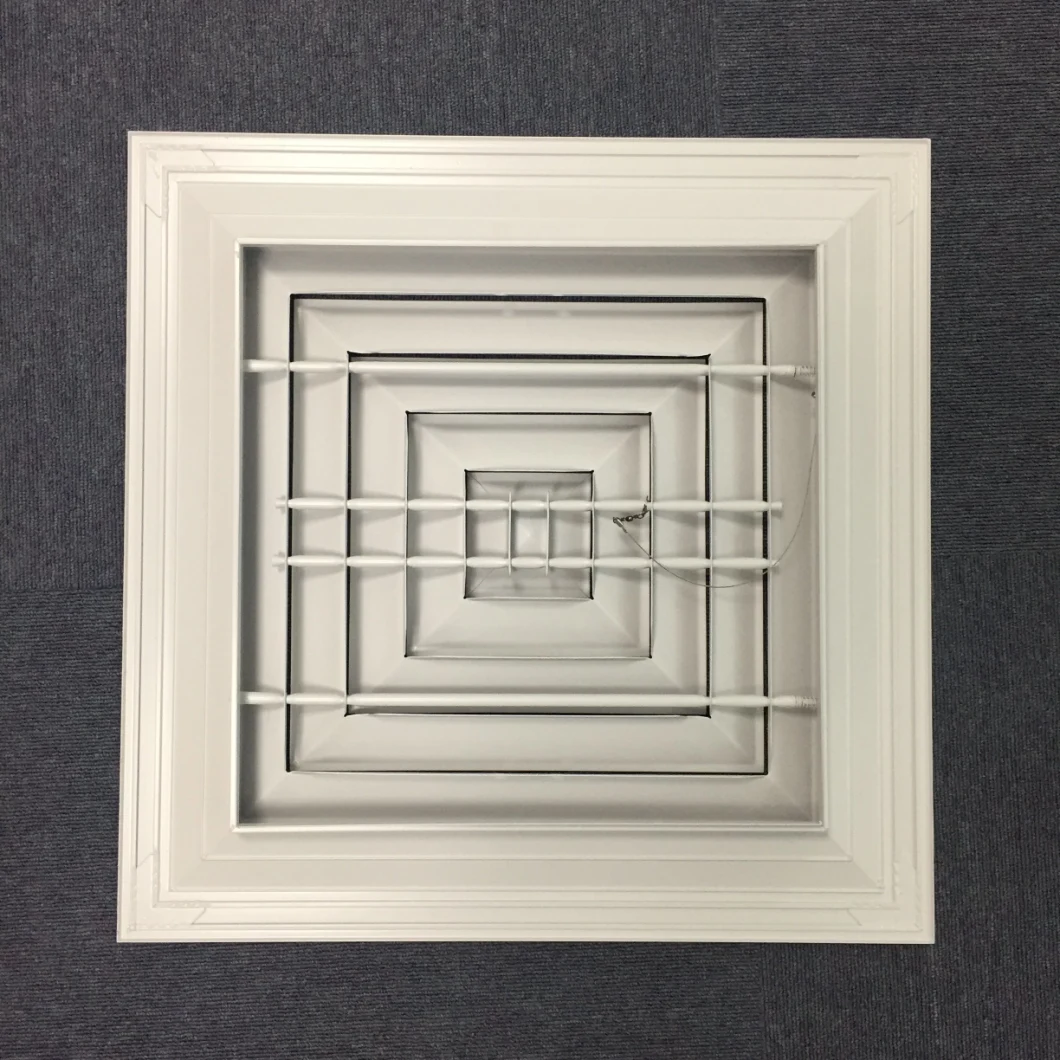 Colour :
* White: RAL 9010, RAL9016,RAL9003
* Anodized
* Black
* Other size is available
Structure:
* 1 way ,2 way 3 way and 4 way air flow

Selection table:
Standard Size HxL (mm)

Air Volume(m3/h)

Throw Max.(m)

150x150

120

0.90

225x225

240

1.40

300x300

400

1.70

375x375

600

2.00

450x450

840

2.40

525x525

1120

2.55

600x600

1460

2.70

Datas are chosen when the air velocity is 2.4m/s and the velocity at throw distance is 0.5m/s
Fasctory show:


Our services and mission:
* VENTECH is the leader of air diffusion technology .We concerntration on high quality and competitive
* VENTECH is the leading supplier of air diffusion products in the international market.We dedicated in manufacture and design of air diffusion and ventilation for air conditioning system.
*VENTECH was found in 2006.We have 30000 square meter production area .With about 250 experienced workers.And soon we became a leading air diffuser and grilless manufacturer.
*We concerntration on high quality and competitive price.We have strict qualtiy control process,and every product is hand inspected to ensure it will be in good quality condition.
* VENTECH will work to develop new design and technologies to achieve better product performance,easier to install and higher quanlty year on year .
* VENTECH personnel will always cooperate with the customer to make doing business together and efficient ,fast and pleasant experience .
* VENTECH is you best choice ,we are ready to cooperate with you to provide a comfortable way of handling air.

Hot selling: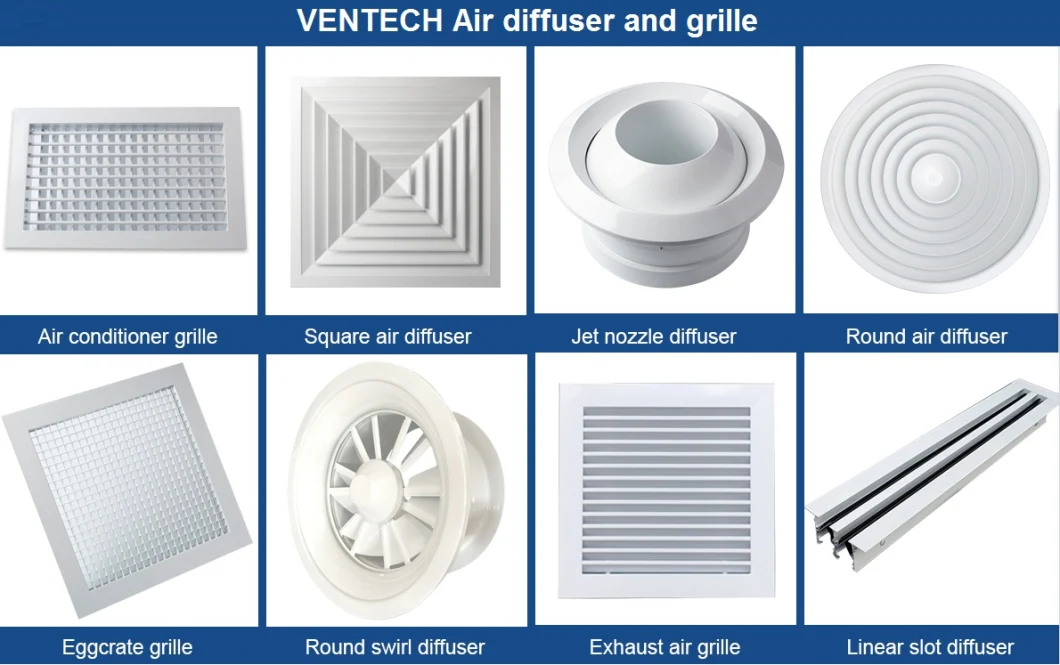 FAQ:

Q: Are you a manufacturer?
A: Yes, we are a professional manufacturer, and we have more than 15 years manufacturing and overseas sales experiences. Now we've sold our HVAC system air supply return ceiling diffuser to more than 26 countries!!!

Q: What's the MOQ?
A: The MOQ is 5000usd per order. Mixed supply ceiling diffuser is allowed.

Q: Can you provide free sample?
A: Yes, we could provide free sample of supply ceiling diffuser. But we don't pay for the delivery cost.

Q: What's the delivery time?
A: the delivery time is about 30days.

Q: what's the payment term?
A: T/T, L/C

Q: Can we buy under our own logo?
A: No problem.

Q: What is the quality?
A: we offer high quality products. VENTECH is famous for it's high quality and most competitive price!

Q: Can I be a VENTECH brand distributor?
A: Yes, you can. Pls contact us for more details.